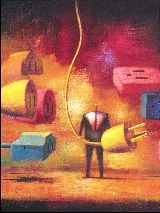 How to Contribute
to Intermedic
Intermedic: Journal of Internet and Medicine
[ Types of Contributions | Style of Writing | How to Submit | Acceptance ]

---
Types of Contributions
Intermedic accepts for publication articles, papers, news and notes for any of its sections below:
review papers dealing with topics related to Internet applications in Medicine and Health, for beginners or not-so-beginners alike;
articles on educational topics, in which Internet is the main focus;
articles on new communication technologies being used in the Internet;
articles containing annotated and categorized lists of useful and interesting Internet resources in any area of Medicine;
papers of opinion and analysis on any of the topics covered by the magazine;
reviews of books, software or WWW sites;
brief descriptions and addresses of new Internet sites related to Medicine, Health or Biomedical Sciences;
notes about new products, services or publications;
news about future or past events related to Internet and Medicine.
In case you just wish to inform us about the existence of a resource or site in the Internet, please use the form available for contact.
The Brazilian Catalog of Internet Resources in Medicine and Health allows only Brazilian sites and links.
Style of Writing
Intermedic has the aim to inform professionals and students who are interested in using Internet in Medicine and Health; but who are not experts in computers or networks. Thus, Intermedic is not appropriate for the publication of papers of a technical or scientific nature or research papers.
In consequence, submissions to Intermedic should be written in a clear and easily understandable style by the non-specialists, particularly when the paper is meant to be read by beginners. The magazine makes available to the readers a Glossary of Technical Terms on the Internet, which the author may wish to point to by means of hypertext links, when appropriate. Please read the Additional Instructions to HTML Authors. Examples of the preferred style of writing can be seen in the articles already published in the magazine.
In case you are in doubt about the appropriateness of an article you wish to submit, we recommend that you send an email message to the editor-in-chief beforehand, containing a brief outline of your submission, the topics to be covered and purported audience.
Papers in English are published exclusively in the on-line edition of Intermedic. Therefore, submitted articles which make full use of in-line hyperlinks to internal and external addresses and URLs, images, etc, will receive priority in the acceptance process.
The editorial staff reserves the right to alter form and contents of submitted articles, in order to adapt them to the style and format of on-line edition. In case these modifications are extensive, the author will be able to inspect an "on-line galley proof" in order to express his agreement to the changes before final publication.
How to Submit
Intermedic is prepared to accept submissions which are sent only in computer-readable form, according to the norms listed below::
Texts should be submitted preferentially as fully formated .HTML files. If this is not possible, we accept also .DOC Microsoft Word files (versions 6.0 ou 7.0) for MS Windows 3.1 or 95. By using the latest version of MS Word, URLs cited in the text can be expressed as hyperlinks, when they are stored in HTML format, which will expedite processing and acceptance of the submitted article. If this is not possible, we accept also text files written on any word processor, as long as it has been stored as a pure ASCII or .TXT file. In this case, URLs cited in the paper should be written in full, between parentheses, just after the name of the resource. Articles which have extensive "jump lists" of Internet resources will be accepted only in the HTML format.
An HTML template is available in ZIP format for downloading in case you are able to submit in this format. Read also the Additional Instructions for HTML Authors before proceeding;
Any images, pictures, graphs or audio and videoclips should be submitted in digital format. Images must have a minimum resolution of 300 dots per inch, even when captured from the screen. Acceptable file formats are .TIF, .PCX, EPS, .GIF and .JPG. In case you send images captured from the Internet, please send also their full URL. Animated GIFs and movie or sound files should be kept to a reasonable size in order to decrease download time. Preferred formats for video are MPEG, AVI, RV or MOV, and for sound, WAV or RA;
In case you need additional technical assistance on how to produce and to submit articles according to our norms, please feel free to contact us via email.
All files can be sent via email attachments to renato@sabbatini.com, in a ZIPPED format using PKZIP or WinZip 95 formats (extension .ZIP), or as isolated, noncompressed files.
If you prefer, you can send the files via normal mail, in a protected 3.5"double density diskette, addressed to Renato M.E. Sabbatini, PhD, Center for Biomedical Informatics/UNICAMP, P.O. Box 6005, Campinas, SP 13081-970 Brazil.
Other, less desirable, alternatives are to publish the full HTML article in a public-accessible site in the Internet and send only the URL address to us; or to deposit the files in a public-access FTP (File Transfer Protocol) site, via anonymous access.
Acceptance
After a first review by the Editor-in-Chief, submitted papers will be sent to selected member(s) of the Editorial Board, which is composed by prominent experts in the field, who will referee them, according to the standards of quality enforced by the magazine. This process will not be followed for submissions which are not papers, such as book, software and site reviews, news, product and event notes, etc.
In case it is deemed necessary by the editorial staff, the paper may be returned to the author(s) with proposed modifications in order to be accepted. Once accepted, all authors must sign a copyright transfer agreement and a warranty of original authorship of all written and iconographic material contained in the article.
Intermedic does not accept paid advertisements except those by its sponsors, and does not pay honoraria or fees for its authors.
The delay of publication is kept to the minimum possible, but it will depend on the form and completeness of submission, the need for modifications and the publication queue.
---
---
Published by:

Center for Biomedical Informatics
State University of Campinas, Brazil
© 1997 Renato M.E. Sabbatini
Sponsored by: